History
our history.
"The Christmas Village" is the result of a vision of Brenda Van Velkinburgh from a sermon on the sanctity of life by Dr. Phil Walker at Ridgecrest Baptist Church, in Madison, MS.  In January 2004, during his "Sanctity of Life Week" sermon, Brother Phil went through the statistics of abortions in the United States since 1973.  On the way home from church that morning, Brenda told Michael (husband) that she had a business plan that could make an impact on the lives of women. 
Over the next several weeks, research revealed that the majority of women aborting pregnancies were 18-25 concerned with their ability to raise a child.  Most of the reasons given by those surveyed dealt with maturity, career choices, financial obstacles, and life disruption.  Much discussion with area charity organizations, ministers, community leaders, and interested volunteers showed there is a great need for housing.
The more people that Brenda (and by now Michael was enthusiastically involved) spoke with about the possibilities, the more excitement and momentum built.  Professionals were volunteering their services: an attorney, OB-GYN's, nurses, architects, accountants, and educators.
 In April 2005, the business plan had been developed and we held a meeting at Ridgecrest to reveal plans to the community.  Monthly meetings developed a core of dedicated volunteers and supporters that began putting the plan in motion.  It started with a handful of people around one table and has outgrown that first room.
In December 2005, Christmas Village Foundation received its non-profit status (501(c)3) from the IRS which allows us to raise funds.  Our first fundraiser was a compilation of Contemporary Christian Music donated by Mississippi artists who support the sanctity of life.  It is titled "Mississippi Rising Stars". In January 2006, on Sanctity of Life Sunday, Rising Stars in Concert was a wonderful and uplifting night of music. 
our vision.
Our vision is to build a campus of church sponsored cottages to house women of all ages, never having to turn anyone away because there is "no room in the inn". If you are interested in building a cottage, please contact us. Our first step is to acquire land to build the campus on.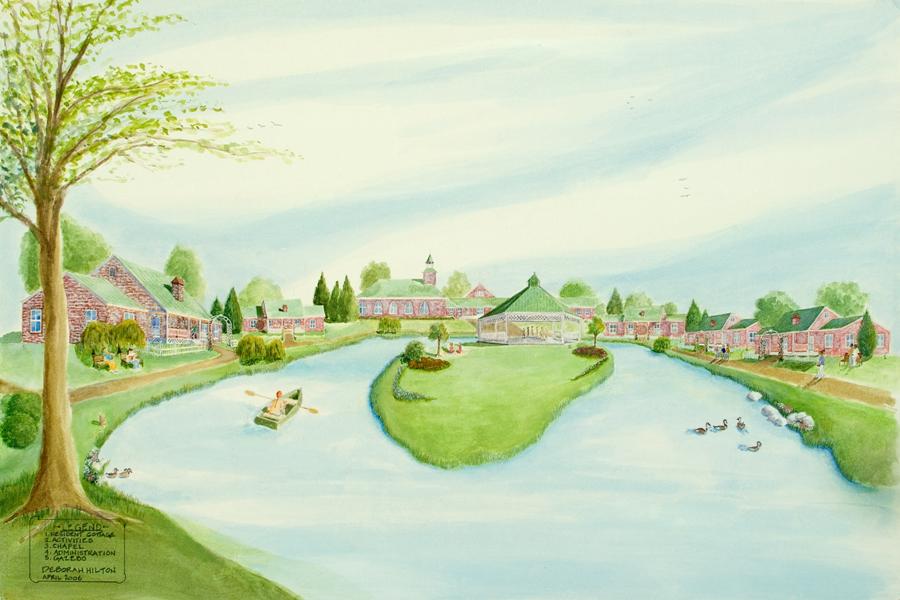 statement of faith
With this statement we affirm our dedication to the Gospel of our Lord Jesus Christ and the Great Commission to share that Gospel in the expectancy of His glorious return.  We believe:
1. There is one God, who eternally exists in three persons:  the Father, the Son, and the Holy Spirit. 
2. The Holy Bible is the inspired Word of God and is the only infallible and authoritative Word about God's moral laws, our salvation from sin, and His plan for our lives.
3. We believe in the deity of our Lord Jesus Christ, in His virgin birth, in His sinless life, in His miracles, in the power for atonement from our sins through His shed blood, in His bodily resurrection, in His ascension to the right hand of the Father, and in His personal return in power and glory to establish His reign on earth.
4. We believe that all men are sinners.  Only by grace through Jesus Christ's atoning sacrifice are all men provided redemption from sin, forgiveness for our guilt, and reconciliation to God and others. We become acceptable to God, or justified, not by works, but by God's grace alone, through faith in Christ alone.
5. We believe in the present indwelling ministry of the Holy Spirit.  The Holy Spirit draws sinners to repentance, assures us of salvation through understanding of scripture, and is in constant interceding prayer for Christians.  The Holy Spirit empowers Christians with talents to meet the needs of the lost, the poor, and the oppressed.
6. We believe in the spiritual unity of believers in our Lord Jesus Christ.  All believers are members of His bride, the church, which is not prejudiced by race, denomination, nationality, or gender.
7. The mission of Jesus was to reach the marginalized, elevate the downtrodden, heal the sick, save the lost, encourage the brokenhearted, and to empower the powerless. He was a friend of sinners and became a servant to all. He affirmed sovereign power by giving up everything.
8. Our mission must always conform to a Christ-centered communication of the Good News of the Gospels to transform lives through the work of faith, a labor of love, and endurance of hope in our Lord Jesus Christ, never diverted until His triumphant return.
our board.
| | | |
| --- | --- | --- |
| John Campbell | | Shaver's Choice Inc. |
| Jill Landrum | | Landrum & Associates |
| Walley Naylor | | Deputy Director, Dept. of Human Services |
| Leisha Pickering | | Helping Hands Ministry |
| Brenda Van Velkinburgh | Chairman | AmFed Companies, Co-Founder of The Christmas Village |
| Michael Van Velkinburgh | Secretary/Treasurer | SC3,Co-Founder of the The Christmas Village |
| Dr. Phil Walker | Vice Chairman | Pastor of Ridgecrest Baptist Church |