Testimonials

"For I know the plans I have for you declares the LORD, plans to prosper you and not to harm you, plans to give you hope and a future." Jeremiah 29:11
To learn more about our ministry, please read these testimonials from the lives that have been touched through The Christmas Village ministry.

"I heard about The Christmas Village from the crisis pregnancy center after considering an abortion. ... The Christmas Village has helped me save my baby girl's life."
Candi Talley, graduate

"...I thank God for the chance to volunteer at The Christmas Village. I get so much back in return. I have volunteered so much of my time now that it has become as necessary for me as air..."
Monica Barker, volunteer

"... To us, The Christmas Village means hope. Hope for a baby that might not have been given a chance to have life, hope for a woman that has no one to lean on, and hope for a childless couple that God calls to adopt a child..."
Connie Knott, adoptive parent
Why We

Exist
over 50,000,000 babies have been aborted Since 1973. each year, more than 1,000,000 abortions occur, largely due to convenience and birth control.
The Christmas Village exists to give a woman a true choice when facing an unplanned pregnancy. It shouldn't matter what the laws are, if we are to be the hands and feet of Christ, then we must show the unconditional love, grace and mercy that God showed for us by sending His Son to die on the cross.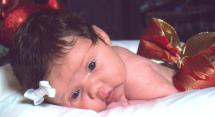 i'm alive because my mommy found the christmas village
Our most recent bundle of joy ... she's the reason we exist!



Before I formed you in the womb, I knew you. Before you were born, I set you apart ... Jeremiah 1:5
Who

We

Are
mission statement: Transforming lives ... two hearts at a time.
Vision Statement: The Christmas Village will be a residential campus where women who have an unexpected or crisis pregnancy can find a safe haven and peaceful environment where they can make an educated decision on the best path to take for their child and themselves, favoring the sanctity of life.